Cell phone monitoring app helps you to keep track of your teen's cell phone activities when they are away from the home. This helps parents effectively curb undesirable behavior or activities of teens to make sure they are using the phone for proper purposes.
mSpy cell phone monitoring software has become a solid competitor on the monitoring market and has recently been ranked #1 by BestPhoneSpy. It shares many of the similar features as other monitoring software, and in addition it has numerous advanced features as well. Along with those features, mSpy supports a variety of smartphones and has one of the best, simple & user friendly interfaces in the market.
The mSpy app functions in both stealth & non-stealth mode. This means once mSpy is installed it is hidden other than the mSpy icon, which requires a user name/passwords to operate. This is the same interface where parents will go to setup and choose which activities the monitoring app will record. mSpy is compatible with major smartphone operating systems including Android, iPhone, and iPad.
After purchase and installation of mSpy, parents need to create an online account so they can login to the mSpy Web panel, this is where they can view all recorded activities of the cell phone. They can view logs of call history, call details, text messages, emails, photos, contacts, websites visited and more. Parents can also track their teen's cell phone GPS location, and can even lock or unlock the monitored cell phone from their online account if they find anything suspicious.
With all the above features mSpy offers a series of advance features to help parents in monitoring & restricting different cell phone activities, it not only keeps an eye on them but also help parents to control the monitored cell phone. For Example parents can block the cell phone from dialing and receiving calls of certain numbers.
Below is the list of features offered by mSpy that make it the best cell phone monitoring app:
The ability to know teen GPS locations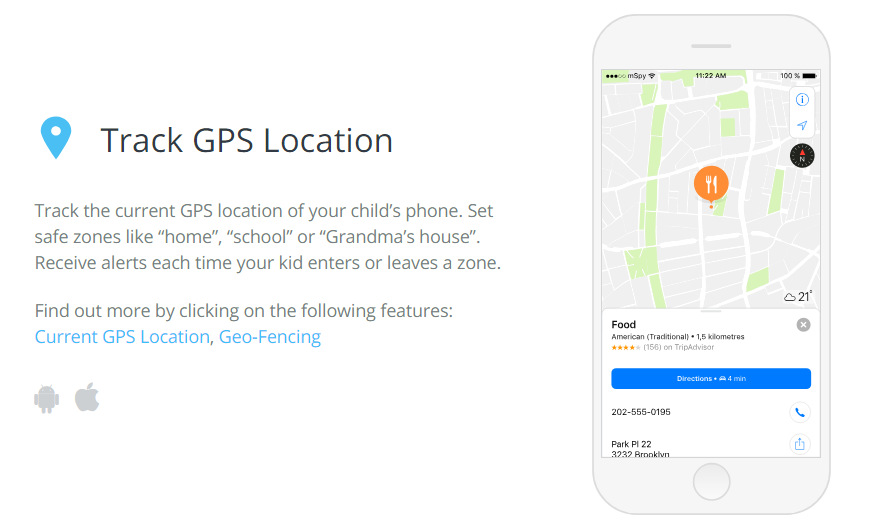 mSpy helps parents to utilize the GPS receiver in their teen's smartphone to act as a silent GPS tracker. mSpy captures and uploads GPS locations on thirty minute intervals. Parents can even get instant GPS locations just by sending a hidden SMS text message to their teen's cell phone. The monitored cell phone will not show anything on the screen but parents will get a reply message stating the map co-ordinates at that specific time.
Control to whom & when a teen can communicate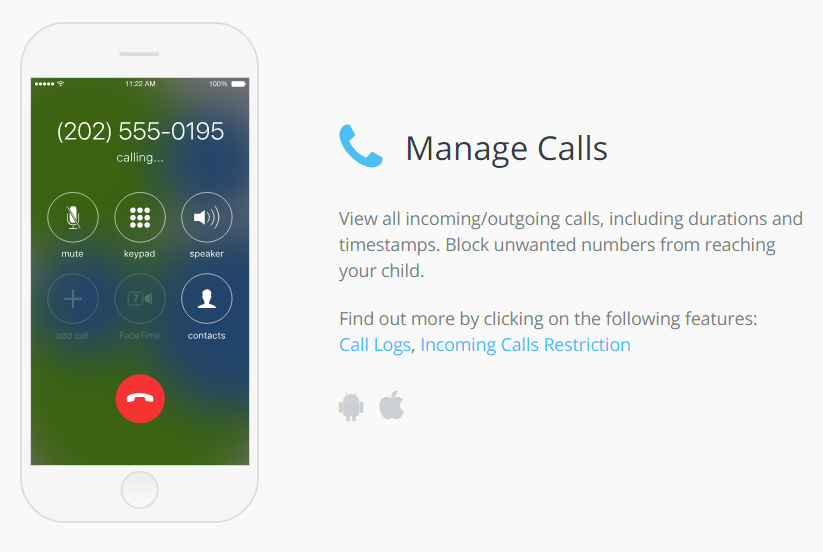 If parents realize that their teen is in bad company with friends, busy talking or texting on the cell phone all hours of the day & night and even during school hours, the mSpy monitoring app gives them the option to block all the communications from those particular numbers. It can even block certain functions of the cell phone at certain times of each day. For example, parents can lock the phone every night at 8:00 pm until 8:00 am or during their school hours through the monitoring interface. They can either choose to lock the entire phone or can lock just the ability to make calls while the other functions of the phone remain operable.
SMS/Email Keyword Alerts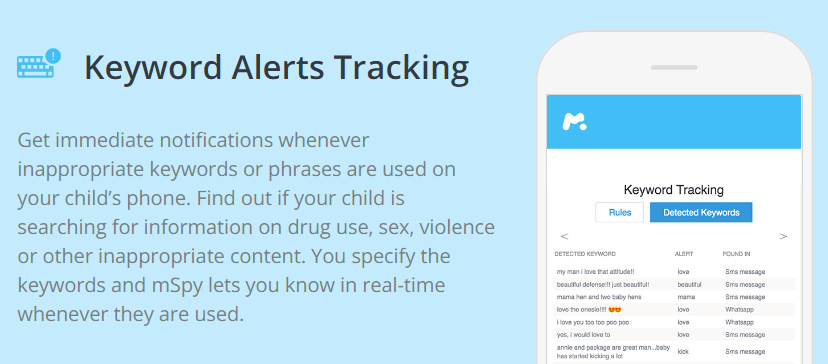 This monitoring app also allows parents to receive an alert message when a specific keyword (specified by parents) is sent in an SMS message or email. Parents would receive a copy of that specific message forwarded to their cell phone or online web account. For Example: What if parents are wondering if their parents are texting about certain sensitive subjects like drugs? They can create an alert for those specific keyword through the control panel and keep an eye on their teen's activities.
SIM Change notification
Parents receive an SMS alert anytime the SIM card is changed in the cell phone. They can still know what is happening on their cell phone and even lock the cell phone if need be.
References
https://www.mspy.com/features.html
http://www.mspyreview.net/7-awesome-mspy-features-you-probably-dont-know-about/
https://thenextweb.com/apps/2013/11/28/mspy-terrifying-app-spying-another-smartphone-tablet-user/