As a frequent business traveler, expenses are the bane of my existence. Keeping track of receipts, then remembering to submit the expense report and getting everything classified and categorized can be a huge hassle, but a necessary one if you're going to get reimbursed for it. Expensify has simplified that process quite a bit.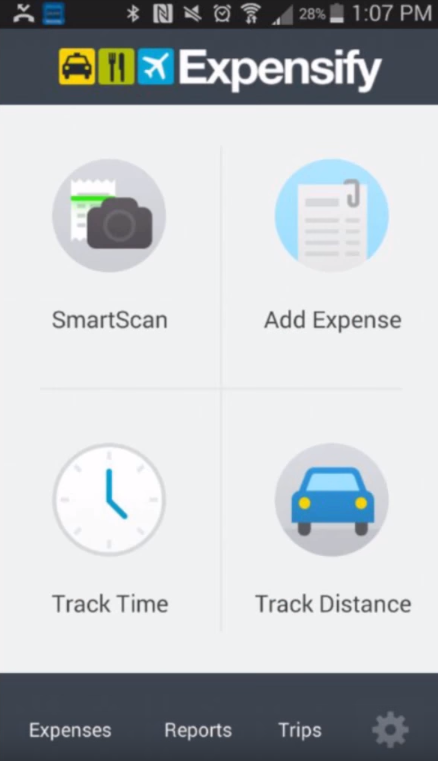 I'm going to break one of my own general rules for reviewing apps – I'm going to talk about both the Web version of this service and the app version, because in this specific case, I don't think you can separate them. In my experience with the service, I found myself using both interfaces, but for different functions. If I tried to review the app independent of the service, I don't think I can truly do it justice.
The service, which is free to join, is basic in its premise in that it helps you track and submit expenses. You can create tags to make it easier to sort through them, add expenses to reports, and then submit them straight from the service (if your employer doesn't require you to use a specific report. Mine does, so I used Expensify to categorize and manage everything, then it made for a fast transfer into the official spreadsheet when I was ready.) Where the app comes in, is that that you can use it to take a photo of your receipt, and it will automatically upload into your account. There are two modes – the first is a "smart" mode, where, after you upload your receipt, it will read it and fill in all the fields for you, like company name and amount, and if it can, it will even categorize it for you. You only get a limited amount of these smart uploads per month in the free account – paying for an upgraded account will give you a greater number of them. When you run out of smart uploads, however, you can use the basic upload and simply input the information manually, so you don't lose any functionality, it just takes a bit more of your time.
There is a robust category system in place as the default, and you can add your own if you need to. The auto-categorizing, I found, really didn't work with my created versions, but it was pretty reliable for the ones that went into a default category. In terms of tags, you can use whatever you want – in my case, I created tags for each trip, so I can quickly go in and pull just the receipts for that trip into a report.
When you pull a report, it will give you a list of each item, per day, with its category. You get category totals (i.e. how much you spent on dinners, or all your entertainment expenses) and then you also get the overall total. Submitting your report will send that breakdown to whatever emails you specify, and you can choose to attach a PDF with the images of every receipt you uploaded. Once you add a receipt to a report, it comes out of your "pending" receipts folder, and an approved report will disappear from your active reports list, making it easy to see what's still outstanding.
I found that the mobile app, while it will let you see most of this information, was a bit slow to update. I changed tags and categories, and it was still showing the defaults, or that it was "uncategorized" even after it synced. It eventually caught up, but I was a bit disappointed that it wasn't happening in real time. The uploading of receipts, on the other hand, was very quick. As soon as I snapped the picture, they were showing up in my Web dashboard. Changes made on the mobile app also immediately showed up on that dashboard, so I'm not sure why it was slow going the other way.
Other features of the app include the ability to track expenses such as mileage or time, for those things that are a bit more intangible, but reimbursable nonetheless. I really liked that you could track everything all in one place, and have a complete record. You can also link specific credit cards to your Expensify account. When you do that, it will automatically pull transactions into your reports, so you don't have to even scan in receipts. The app and website goes out of its way to assure you it's secure, but you might not want everything syncing; on the other hand, if you use a specific card for nothing but business expenses, then this is a great feature that will simplify your life.
If you do any kind of travel on expense account, then this is going to be an extremely useful app/service for you. It makes it easy to track every expense you might have, all in one place, and generate robust reports that you can either submit to clients/employers directly, or use to fill out the "official" company reports much faster.
I found it extremely easy to get up and running. You either sign up for the free account, or sign in to your existing account, and start scanning. I found it to be incredibly accurate at reading my information every single time in SmartScan mode, and even manually entering your information is very intuitive and easy.
The interface of the mobile app is very simple and clean. As I mentioned above, I found that it worked best in conjunction with the Web interface. I used the app for inputting all of my receipts and information, then used the Web interface to tweak any details and generate the reports. For the frequent traveler, you'll be using it constantly, if for nothing else than to have a copy of your receipts so you don't have to worry about losing one and then being unable to get reimbursed for it.
I was very impressed with this app overall, and the service behind it. You get a lot of functionality in the free account, and the paid upgrade just expands on things like SmartScan, giving you more of them in a month. I knocked a half-star off because I found I really needed the Web interface to effectively do somethings, while I really needed the app to do other tasks – the fact that they work together so well is a plus, but if you want something completely contained in the app, it's not quite there. I also wanted the app to update with changes I made on the Web a bit faster. But those were both very minor issues, and as a whole, I'd highly recommend this app for anyone who uses expense accounts.
The Expensify app is available for download on Google's Play store and Apple's App Store.