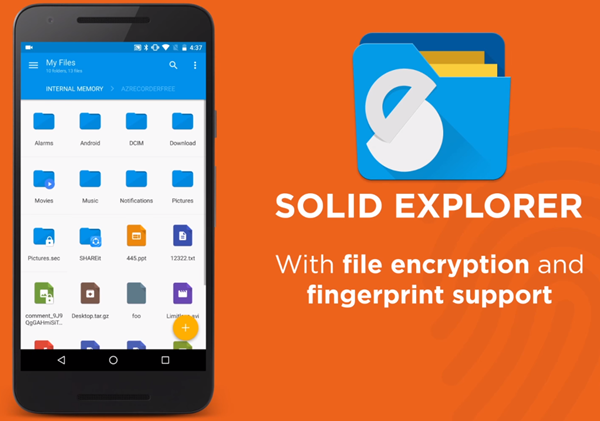 Solid Explorer is a great looking file explorer application with all the bells and whistles to replace your existing file management app. The user interface is slick and intuitive, featuring easy access menus for straightforward navigation. The inclusion of two independent panels makes file management really simple. While the UI and ease-of-use is great, Solid Explorer doesn't slack on techie stuff either.
The app allows for file sharing via FTP, supports ZIP, RAR and TAR file archives, features FTP, SFTP, SMB/CIFS clients, cloud storage access including Google Drive, Dropbox and Box.net, bookmarking and even indexed search functionality. It all implies that, while the app looks good, it doesn't shirk on the important stuff. The only thing I felt was missing was a native picture viewer or music/video player, which you get in other file managers such as ES File Explorer. This certainly isn't a serious issue as you can utilize other apps on your device, I just noticed it was something that was missing.
Solid Explorer is, however, very much a beta product with more and more features to come. These include (but are not limited to) remote media streaming, image preview, the ability to set a cloud service as a default panel, tablet UI and further integration with other cloud spaces with Sugarsync, so it's already a fantastic app with even more potential. While file explorer apps give many users reason to yawn and change the subject, there's no denying that they are incredibly useful. While some feature a bland UI that places features over looks, Solid Explorer blends both aesthetics and functionality. If you think perhaps your file manager is a little boring or lacking some of the features above, definitely give it a try. It's free, rammed with growing functionality, is easy to use and looks great!
With so many features and functions, it's like a Swiss Army Knife for your Android device. As the app grows and new elements are added, this will only get better.
I've played with quite a few of these kind of apps (although I wouldn't say I'm a huge user) and Solid Explorer has to be one of, if not the easiest file manager to use. The navigation is really simple, the app itself is clear and user-friendly throughout.
I know of may people who make full use of their file explorer app and others who see them as not altogether necessary. With all the features contained within Solid Explorer, however, it might be something people use more, but for different reasons.
Of all file management applications I've used so far, Solid Explorer arguably has the neatest user interface. I really liked the way the app is designed and presented, it's easy on the eye and simple to use.
While some people become very attached to their particular favorite file manager, I think Solid Explorer has both the looks and the functionality to turn a few heads. Certainly, if you have no specific preference, it's quite possibly the best option currently available. It's free so definitely consider giving a test drive soon!